The LLNA-BrdU ELISA is conducted at MB Research Labs and is based upon the OECD 442B Testing Guideline.  The LLNA is an alternative toxicology assay for dermal sensitization using CBA/J mice.  The LLNA is an alternative to guinea pig studies that require more animals and long test durations.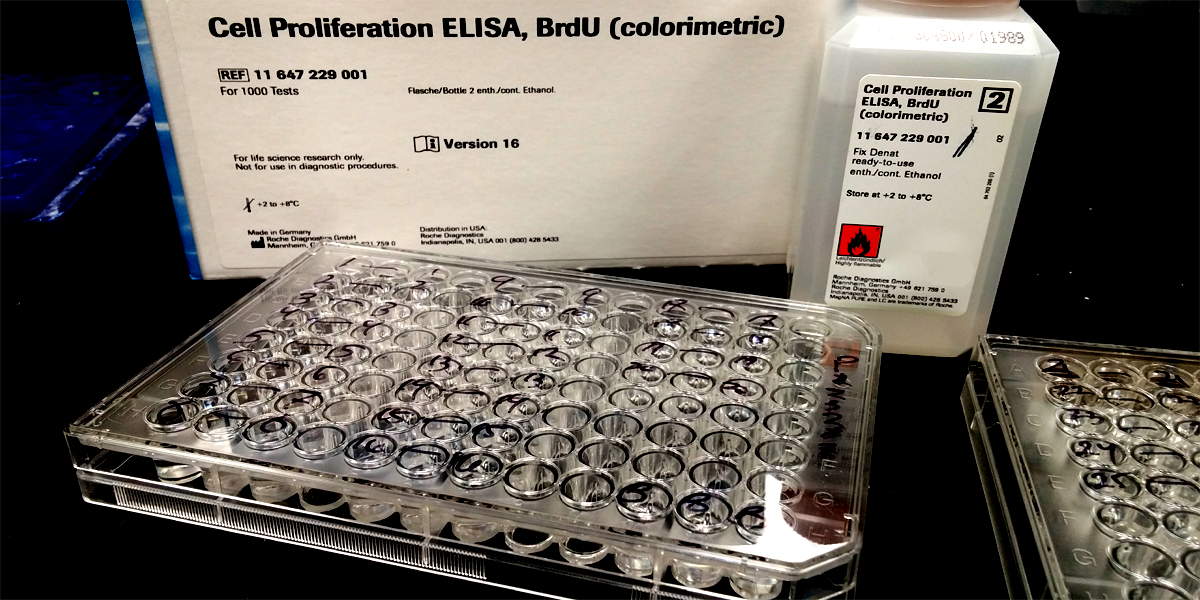 Assay Principle:
To determine the sensitizing potential of topically applied test material utilizing the LLNA, and measurement of lymphocyte proliferation by BrdU incorporation detected by ELISA.
Irritation Screen Test:
An initial Irritation Screen is performed using 3-5 highest achievable  concentrations. The screen consists of 2 animals per concentration that will be dosed in an identical manner to that of the main test. Ear measurements will be taken prior to dosing on Study Days 1 and 3, and prior to euthanasia on Study Day 6.  Measurements taken on Study Days 3 and 6 will be compared to pre- dosing measurements. If there is no effect, or an increase of <25% in ear thickness, the same concentrations will be assayed in definitive test.
However, if significant ear swelling (ES) is present (>25% over control), then an extended screen (Quantitative Irritation Test; QIT) is recommended. The QIT is similar to the Irritation Screen except 4-6 concentrations will be assayed to determine the highest non-irritating concentration.
Definitive Sensitization Test:
The main test will be conducted by topically applying test material to the dorsum of the ears at the 3-5 highest achievable concentrations (100 [liquid only], 50, 25, 10, 5, 2.5, 1, 0.5, etc.), which do not cause severe irritation or overt systemic effects.  Ear measurements will be taken on Study Days 1 (prior to first dosing), 3 (approximately 48 hours after initial dosing) and 6 (prior to euthanasia). Animals will be injected with BrdU on Study Day 5, approximately 24 hours prior to euthanasia. Auricular lymph nodes will be collected on Study Day 6, a single-cell suspension will be created and lymph node cells (LNC) will be assayed for BrdU incorporation via ELISA.
Assay Interpretation:
A Positive Response is when a Stimulation Index (SI) is greater than or equal to 1.6 (relative to that of control lymph nodes).
A "Borderline Positive Response" is defined as an SI from 1.6 to 1.9; additional information and testing may be needed.
A Negative Response is when the SI is <1.6.
For more information about this and other studies, please see:  www.mbresearch.com