OECD 405 – GHS Toxicity Categorization for Eye Irritation & Corrosion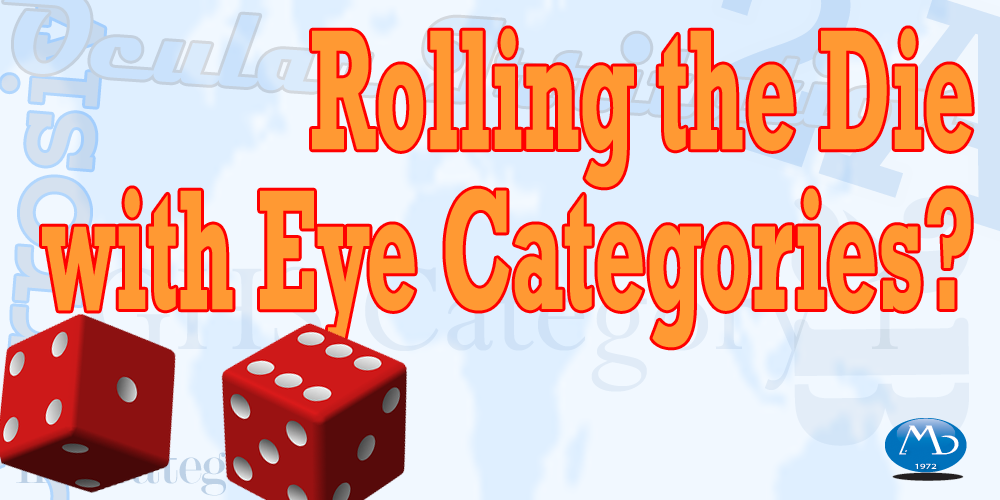 Rolling the Die with Eye Categories?
MB Research Labs has developed a Dual Assay System for Eye Irritation Categorization
The Organization for Economic Co-Operation and Development (OECD) has prescribed the use of a weight-of-evidence (WoE) analysis, integrated with a sequential testing strategy, for the classification of acute eye hazards.  The October 2017 revision to the Health Effects Test Guideline No. 405 outlines a stepwise strategy that includes Step 6, "Perform validated and accepted in vitro or ex vivo ocular test(s)," specifying only four possible tests:  three designed to identify severe eye irritation/ corrosion (GHS Category 1) and one to identify non-irritants (GHS No Category), the top-down and bottom-up approaches, respectively.  The GHS Category 2 (eye irritant) classification is impossible by any one bottom-up or top-down test.
Dual Assays
The EpiOcular™ Eye Irritation Test; EIT (OECD 492), as a bottom-up test, either determines a material to be No Category, or that it causes eye effects, but cannot discriminate between eye irritation, serious eye damage, and corrosion.
Conversely, the top-down Bovine Corneal Opacity and Permeability; BCOP Test (OECD 437), is used for ruling in or ruling out Category 1 effects (serious eye damage/corrosion).  By using a dual-assay/approach system – the combination of the EIT and BCOP test – we have determined, with a high degree of accuracy, GHS Acute Eye Hazard Category 2 chemicals that cause reversible irritation to the eye.
Double Elimination
A Double Elimination occurs when a BCOP test rules out GHS Category 1 (severe irritation/corrosion) and the EIT rules out GHS No Category (non-irritant), analysis of the combined results concludes the only other possible designation – Category 2 (irritant). The classification defaults to Category 2A for labeling and handling purposes because at present differentiation between category 2A and 2B cannot be made.  Using this approach, we correctly identified 87% of the Category 2A/B chemicals as Category 2 after testing 42 chemicals (nine, 15, and 18 in Category 1, 2A/B, and No Category, respectively).
As a result of this analysis, we are encouraged by the potential of the BCOP-EIT dual-assay system, coupled with WoE evaluation, to correctly assign unknowns into GHS Category 1, Category 2A, and No Category Acute Eye Hazards without the use of less predictive and more expensive in vitro tests.  Moreover, in keeping with the OECD's recommendations, we predict that such a system would greatly reduce reliance on the Draize Rabbit Eye Tests.
For more info about MB Research.
#mbresearch #invitrotox