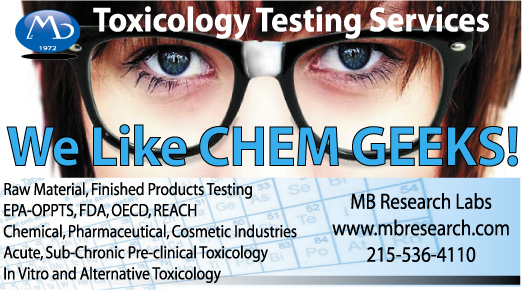 Chemical Toxicology Testing Overview
Over 45 Yrs Experience. MB Research Labs has been a primary provider of chemical safety testing services to the chemical and consumer products industries.
MB Research has been accredited by AAALAC International, a private, nonprofit organization that promotes the humane treatment of animals in science through voluntary accreditation and assessment programs since 1975.
Over 50,000 toxicigical studies performed – Extensive expertise in conducting in vivo toxicology
Standardized GLP Protocols available for skin and eye irritation, oral and dermal toxicity, dermal sensitization assays and phototoxicity.
Toxicology Testing Experience You Are Looking For.
With a wide range of in vivo and in vitro test protocols available, MB Research Labs offers comprehensive capabilities to address your unique needs and goals.
MB has decades of expertise in many areas of in vivo and in vitro
testing, research, and safety evaluations, MB Research serves the testing needs of both government and industry.  Our complete support services including consultation, protocol development, quality assurance, analytical chemistry and archive facilities are integral components of studies performed at MB.  Our technical and support procedures are in full compliance with OECD, FDA, and EPA.
Chemical toxicology studies are routinely performed on a wide variety of compounds. The selection of specific studies to be conducted is based on the intended use of the compound and the applicable regulatory requirements. Protocols for the most commonly implemented regulatory studies are available upon request.
Related Links